African Safari Operators :- Benefit from my research
Safari Operators:- These companies I have found offer comprehensive good value & luxury packages
| | | |
| --- | --- | --- |
| South & East Africa | | North Africa |
Olonana Masai Mara Small luxury camp in the heart of Kenya's big game country riverview verandahs where guests can watch resident hippos wallowing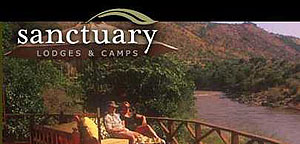 A collection of unique properties in areas of outstanding natural beauty that have been designed on an environmentally sustainable basis.
Kenya, Uganda, Tanzania, Zambia, Botswana
Elephant Watch Safari's :- Samburu Kenya
The only Safari Camp of it's kind in Africa it's a unique experience!!
Oria Douglas-Hamilton and her husband Iain have been privileged to work with elephants for more than forty years. They wrote the books "Among the Elephants," an account of their time spent studying elephants in Lake Manyara and &quot Battle for the Elephants,"which documents their years undertaking an Africa wide elephant census to put an end to the slaughter of elephants for the ivory trade.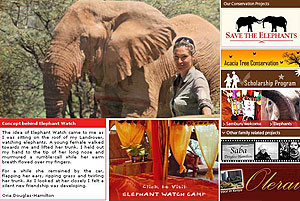 This exotic camp is perched on the sand banks of the Ewas Ngiro River, beneath wide spreading Kigelia trees and Acacia Elatiors. It is home to some of the largest bulls in Samburu who can often be spotted mudding in the river,resting under an acacia tree or picking pods beside the tents. The trees are filled with a multitude of birds and monkeys. At dawn a gentle chorus echoes overhead announcing a new day in the wild.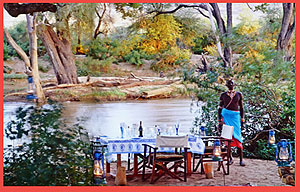 Each day opens with a new adventure. Early morning or evening bush walks along well-travelled elephant paths, or collecting medicinal plants or honey and always accompanied by our Samburu warriors.
Robert and William Carr-Hartley
Robert and William Carr-Hartley 
 African safari adventure travel operator specializing in Luxury Mobile Tented Safaris 
 Safari lodge destinations inc Kenya, Tanzania, Uganda, Zambia, Botswana and South Africa
                
Sunworld Safaris ...the 4x4 Specialist
Moroccan Photo Safari's .........I can thoroughly recommend a David Waterman Moroccan Photo Safari I went toChefchaouen, Imilchil, Marrakesh and a whole lot more between with David. He has a wealth of knowledge on Morocco where and when to get the best light etc You can see a little of the fun we had in Trip Photos ....although he tried curing me of taking photos of everything that moved ...but don't think he succeded as I returned with 6000 images oooops